The People's Republic of China (PRC or China) is a large nation that occupies
most of Eastern Asia and its Pacific coast.
Ingame the PRC is in an alliance with the Russian Federation, North Korea, Venezuela, Cuba, various Ultranationalist organizations,and Serbia. The Chinese assist with the invasion of the American West Coast, operations in the Pacific, along with deploying troops into the Pakistani mountains.
Equipment
Edit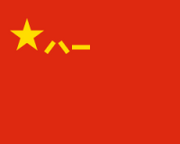 Small Arms
Edit
Handguns
Submachine guns
Shotguns
Carbines
Assault Rifles
Sniper Rifles
Light/ Heavy Machine guns
Rocket\Grenade Launchers
PF-89
PF-98
HJ-8 Red Arrow
QBL-06
Other
Light Vehicles
IFVs\APCs
Tanks
Self Propelled Artillery
SPAAGs
Attack Helicopters
Transport Helicopters
Fighter Jets
Transport Jets
Naval Craft
Jet Ski
Liaoning Aircraft Carrier
Community content is available under
CC-BY-SA
unless otherwise noted.