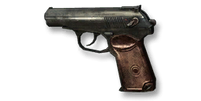 The Makarov PM/PMM is a pistol manufactured in
Russia
/Soviet Union.
Modern Combat
Edit
Ingame the Makarov appears being used by some Russians, Cubans, Koreans, and HIE forces, along with Ultranationalist militants. It features low damage and an 8+1 magazine capacity. It can be upgraded with different rounds, a suppressor, and different iron sights.
Variants
Edit
Makarov PM - Base version as described above
Makarov PMM - Modernized version used by the Russian Military and some Ultranationalist.
Makarov PB - Integrally suppressed variant used by the Russian VDV and Spetsnaz.